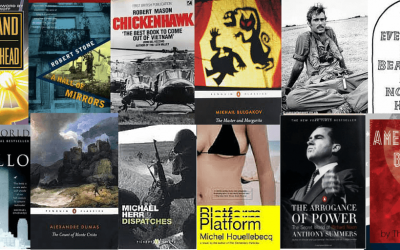 My Reading life Part 3: War Books, Russians and Non-Fiction Tear Jerkers.
I escaped the destructive force of living in a nice house with food in the fridge for a vagabond life eating foods which later transpired to give people Mad Cow disease. I no longer had the steady stream of books being flung my way. I began to buy my own second hand books. The best thing about second hand books in those days was it was a fantastic pick and mix of titles and you pretty much took what you could get. I forced myself to read Underworld by DeLillo a book that has been lauded fore and aft that I have since returned to and found to be a touch staid.
read more
Chapter 1
Saturday November 9 2002
I stood on the balcony as the first planes came screeching and screaming in. Flying lower than they needed, to get a better look. The view must have been amazing. Plunging low, then high, undulating at something around the speed of sound. Even American Air Force pilots were unable to resist the allure of Paris. Le Top Gun.
read more
"Let us not pretend any of us care one jot for the other. Let us not continue with that conceit. Let them not stand there and say they noticed the blood on my sleeves." Johnny
read more