Underdogs? Eddie Please.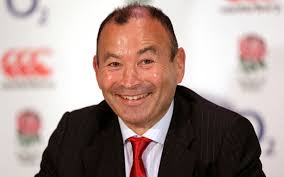 When he has not been justifying the selection of a vicious, dangerous, out-of-form thug as captain, Eddie Jones has spent the past week grinning widely while speaking very slowly and not very candidly. They don't call him Yoda for nothing. They didn't call him for nothing, they called him for 2 million pounds sterling! Jones is now, suddenly, relishing the self-prescribed underdog tag he would have us all believe his team deserve. Granted, Scotland, over the last two years, have grown into being a better, more effective, more entertaining side to watch than the English, but to say that automatically makes England underdogs? Not quite.
The Numbers

England have nearly 70 times more adult male players than Scotland and the RFU, with its £200 plus tickets had a turnover of £208M in 2015 compared with the SRU's paltry (yet record breaking) £44m. It is patently obvious which of these teams holds the strongest position in terms of eligible player base and financial clout. This doesn't point to England being underdogs, on the contrary, they are vastly superior in terms of manpower and even since the world cup they've got their hands on another £15M for simply having the decency to turn up to that last game against Uruguay, thus fulfilling their contract and allowing the RFU to pay for a coach of Jones' pedigree.
That day against the Wallabies
Scotland got no consolation prize nor multi-million pound compensation package for being unjustly denied a semi-final spot in the last 4 minutes against Australia as a result of a poor but understandable refereeing blunder. They got on the bus and went home. Most of them haven't stopped complaining about it since, mind.
Listening to Greig Laidlaw harp on about "taking that pain to the grave" and Stuart 'Joggy' Hogg whimper that he feels "haunted" by the experience is not the kind of thing Scotland fans want to hear from the team's two biggest stars in the build up to the Calcutta Cup. Thankfully not everyone is trying to Spielberg the loss, Scotland's latest Kiwi import John Hardie's answer to "no torment, no ghosts about that day against the Wallabies?" was,
"Nah. We have to learn the lessons, that's all. Nothing else we can do."
Let's hope the main lesson that everybody learned that day is that neither players nor match officials can call on the TMO on a whim; there are actual written regulations about this kind of thing in rugby.
Onward.
Who had the better World Cup?
England faced Wales and Australia and Fiji in their pool at the world cup. Wales are on a par with England in terms of results. They have played each other 127 times in their history with 12 draws, 57 Welsh wins and 58 English victories. Australia are much better than England and apart from a period of Wilkinson inspired superiority from 2000-2004 always have been better than England at Oz's fifth ranked national sport.
All Scotland needed to do to get out of their pool was beat Japan, Samoa and USA. Losing to one of them would have been as embarrassing for Scotland as it was for the Boks who lost to the Blossoms. Certainly Scotland played out of their skins against Australia but they had had it relatively easy up to that point in the tournament and could afford to go all out. England had a far tougher group, against opponents who were tactically superior in terms of the leaders and decision makers on the field.
Lead, Leaders, Leadership
This is the key, or keys rather, to success for England under Eddie Jones.
Keys that were once safely stored in the glove compartment of Stewart Lancaster's Mondeo during training sessions run with a whip by Mike Catt and Papa Farrell. Keys that are now firmly back in the hands of the players themselves via the destruction of Lancaster's private boarding school ethic by Eddie Jones' appointment of Dylan Hartley as captain.

Hartley as Captain
Hartley's appointment is flawed and destined to fail for a variety of reasons. Hartley has only started a couple of games in the last few months due to a combination of concussion, dodgy ribs and the outstanding form of young Mike Hayward. Nevermind the fact that every armchair pundit and hooker in the country (with the notable exception of Eddie Jones, Dylan Hartley and Graham Dawe) has spent the time since the World Cup debating whether Jamie George or Tom Youngs will get the England number 2 starting berth, based on their sizzling performances in the Premiership and Europe.
But the real reason Dylan Hartley shouldn't be anywhere near this squad is that he is one of those players who goes out to play not just for the love of the game but for the love of hurting other people. Rugby is a tough game and things will boil over but there is a limit to how far that can be allowed to go. That limit is sticking your thumbs in two different players' eyes on multiple occasions during the same match. That limit is biting a fellow sportsman and drawing blood, leaving a scar for life. Hartley also swears incessantly and takes it upon himself to taunt the referee, contesting almost every scrum decision and screwing his face up and swearing in the process. He is one of the least popular players with referees in the game, as his disciplinary record bears witness.
What about Hartley the player?
Well minus the psychotic behaviour; he throws well, scrummages well and you'd rather tackle George or Youngs than Hartley at full tilt. Hartley hits the gain line as well as Keith Wood ever did.
How are England going to Play?
Hartley's appointment and the general disregard for other aspects of rugby other than the attritional and the physical are a clear indicator that Jones is opting for brawn over brains. His selection of Farrell in the centre and Haskell and Robshaw on the flanks is confirmation of this. Haskell went as far this week as to say that he basically doesn't understand the difference between the roles of a blindside and openside flanker, similar to not believing in gravity Haskell is setting himself up for a fall. Robshaw doesn't need to say anything, you only need to recall his three most important decisions (South Africa, Wales and Australia) to understand that he's not a thinker, he's never fully understood the game but excels in his role as a quite tall, very heavy, quite fit, very slow back row forward in the mould of Mike Teague or Dean Richards.
Without the team sheets we will just have to see.
My Final Thoughts
Jones will still be grinning from ear to ear at the end of the Six Nations no matter what befalls this team for the next couple of months. He will have moved England closer to where he wants England to be in Japan 2019 : Champions of the World. I wouldn't put it past him, but my money is on Scotland this weekend. Eddie Jones, welcome to the Calcutta Cup.
Diarmid Hurrell
Read Scotland V England Six Nations Preview Click Here